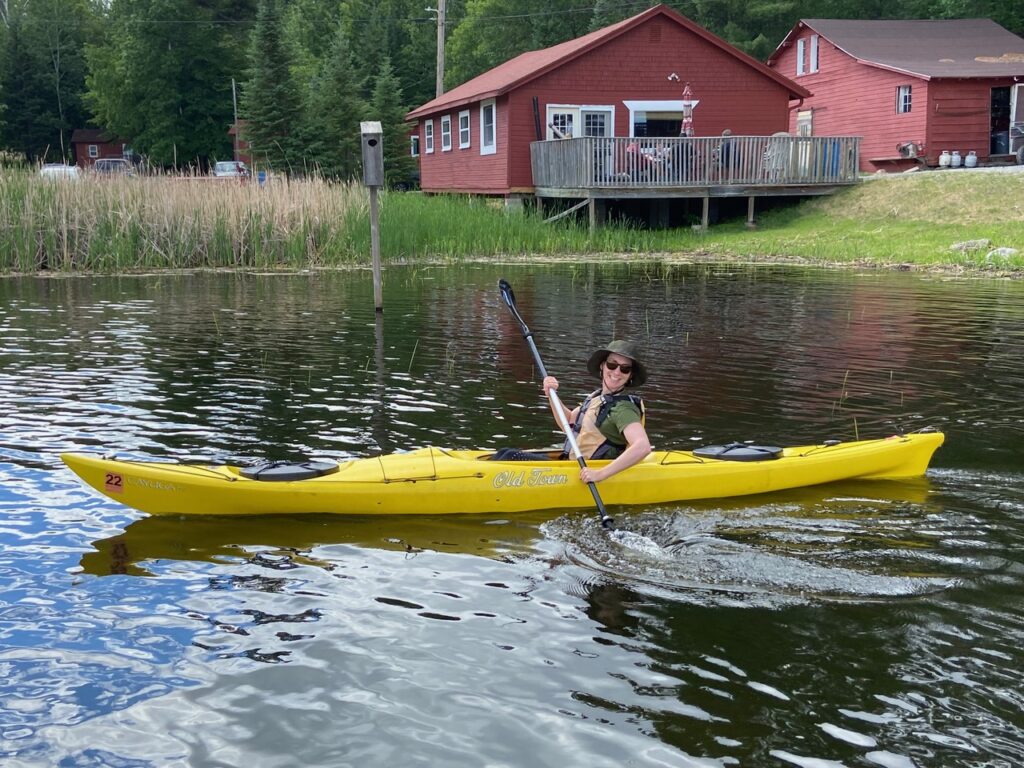 We rent canoes and kayaks to the public! 
Rentals $45/day for kayaks and $60/day for canoes.
Please understand that we outfit hundreds of trips a season, most all are an enjoyable," trip of a lifetime" in Voyageurs National Park.  We hold safety at the highest standard, so the following list is designed to align expectations around your trip in the park.  Working within your skillset, and knowing what you're "getting into" will help you make the best decisions when booking a trip or planning an itinerary. We would love to help you plan the trip and many times a call before you book is a great way to talk through your ideas.   

1.  Kabetogama roughly translates to "rough water" in some native languages.  This is not a "boundary waters" canoe trip. This is BIG water and when the wind picks up waters can get very rough. We do not launch canoes when the wind gets over 10mph and in some instances, less than that.  For that reason, we always suggest preparing a backup plan for your trip in "worst case scenarios". Woodenfrog State Campground is adjacent to our lodge.  Their first come, first serve campsites can be a life saver and a great base camp for your adventure when weather is fickle.   Another option is hiring a water taxi to haul your party, gear and/or your canoes/kayaks to your campsite.  

2. Like we said before, Kabetogama is BIG. Not all campsites are accessible as a day trip, and Kab has current as it runs south east towards Namakan and eventually through Kettle falls. Your return trip will be against current and usually into the wind. A full days paddle on a pane of glass lake 17 miles away can turn into a treacherous slog back to your vehicle if there are windy conditions. These long-distance areas are best served by water taxi or motor boat rental.    

3. We rent/launch canoes and kayaks from our facility. Our watercraft cannot be transported by vehicle to another launch location. If your plans include other lakes or far away campsites please consider renting from someone closer to your reserved site, or using a taxi service.  

4. For overnight trips, we will need to know your itinerary and campsite numbers before you book.  Please give us a call if you'd like us to consult you on your itinerary.  

Our daily rate is a 7am-sunset rental. Water craft are not to be piloted at night and do not come with lights to do so. Overnight trips are considered two-day day rentals. If you plan to leave at 4pm on Friday and return by 4pm Saturday it is a two-day rental. Again, it is a great idea to be flexible and sometimes Kab tells you when you can leave or how long it will take you. We allocate your watercraft for the day you arrive and the day you leave the only deadline you have is the sunset.  

5. We do not offer rides and pick up services. If you get into trouble, capsize, or are stuck in conditions that do not allow you to pilot the watercraft safely, contact 911 for emergencies, or contact a water taxi for pick up and drop off of your party, gear, and our boats back at our facility. Our policy is that you pick up/launch at Arrowhead Lodge and return your rental here, if we need to retrieve any equipment we will hire a taxi to do so and you will be charged the water taxi fee. That being said, we want you to be safe and we would rather you err on the side of caution and safety.  

Your deposit is non-refundable. If we make the call to cancel the reservation due to poor weather conditions we will refund your deposit. 
Check out the young couple enjoying our outfitting services